Explore Frequently Asked Questions about Blue Note Napa Summer Sessions
How does seating work?
Seating options vary depending on event. Please check the info section on the Ticketweb purchase page for info on seating and pricing on the event you're interested in.
Is there accessible seating?
Yes. Please check in with the host upon arrival who will direct an usher to seat you and your companion(s) in the accessible section of the area you purchased. These sections are closest to the path of travel in each section. Service Dogs are allowed.
Are children allowed?
Children aged 8+ are welcome at most events, but guardians are discouraged from bringing children unless the event is specifically geared to a child audience. Every patron must have a ticket regardless of age. No babies please. Please check specific shows for age restrictions.
Are pets allowed?
No pets are allowed except for service animals.
What is a service animal?
Under the ADA, a service animal is defined as an animal that has been individually trained to do work or perform tasks for an individual with a disability. The task(s) performed by the animal must be directly related to the person's disability.
Where is the box office?
There is no box office on-site. Please ensure you have purchased your ticket online via TicketWeb prior to arrival and have your email confirmation ready for scan from your phone at entry. Please contact boxoffce@bluenotenapa.com with any questions.
What food is available?
Multiple food options will be available onsite, including the Meritage Food Truck and a wide array of offerings at Five Town Grocery. Food purchased from on-site vendors are permitted in the venue. Blue Note Napa also will be offering oven-fired Flatbreads, gourmet tater tots and snacks. 
What is parking like?
Our parking lots are conveniently located near The Grand Reserve property (between 825-850 Bordeaux Way) or 2700 Napa Valley Corporate Dr, Napa, CA 94558. ADA guest parking lot is located right behind The Village's North East Entrance.

Please refer to this map to view specific entrance locations.

We recommend purchasing your parking when you're buying your tickets. If you've already bought your show tickets, don't worry! You can still secure your parking spot directly online two days before the event by checking our calendar. Alternatively, feel free to reach out to our friendly box office team at boxoffice@bluenotenapa.com.

The cost is $15 per vehicle in advance and rises to $20 on the day of the show.

Upon arrival, you'll find signage and attendants ready to guide you, starting 30 minutes before the listed door time. Please remember to respect our neighbors by avoiding the Meritage Hotel guest areas or the surrounding business lots. And a friendly reminder, although we love them, it's not suitable to leave pets in your car while at the show.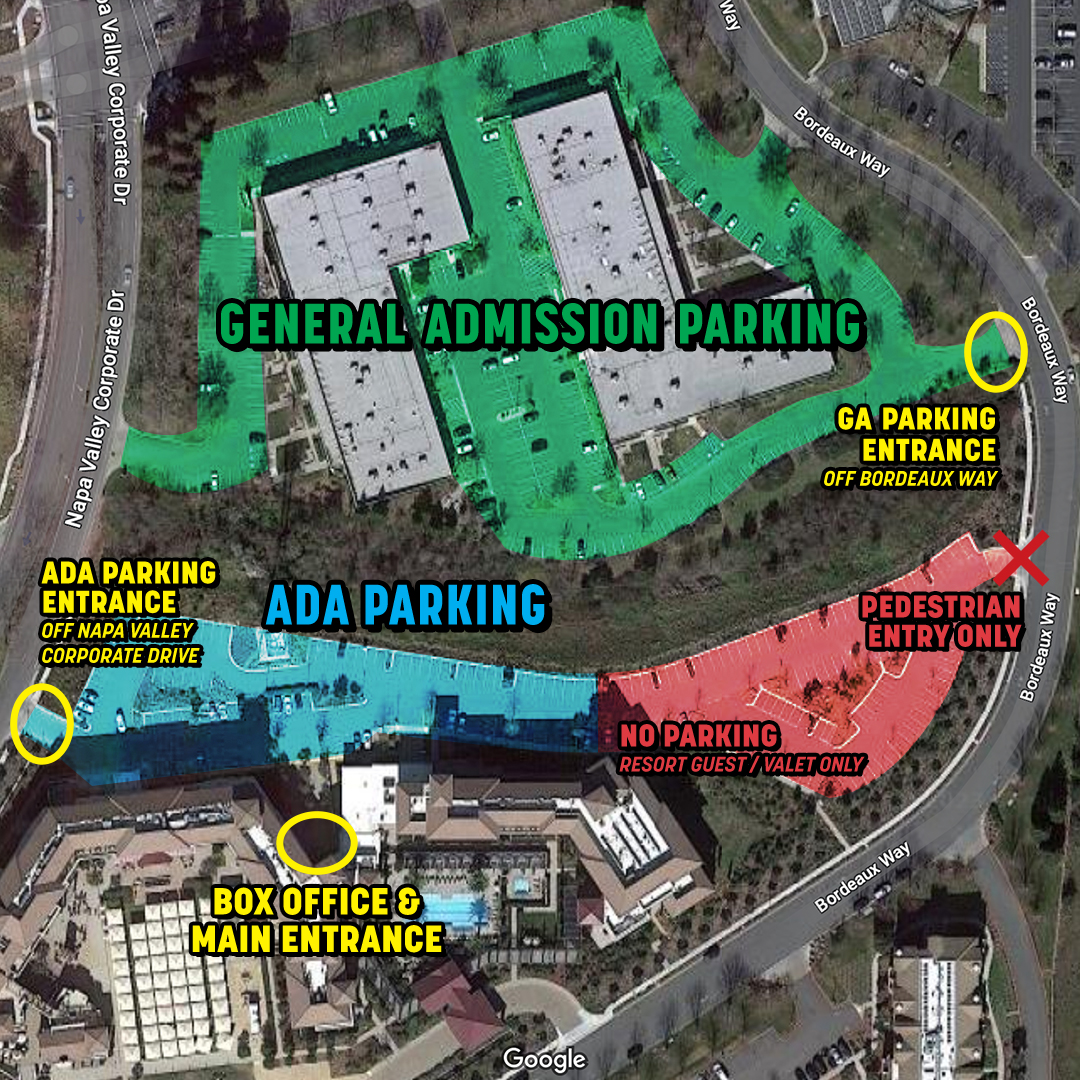 What is your bag policy?
To expedite the entry process, we recommend that you attend the event bag-free. ALL BAGS ARE SUBJECT TO SEARCH. 
 
ALLOWED:
PURSES/ BAGS no larger than 12″x 6″x 12″.
WAIST/FANNY PACKS with no more than one pocket
NOT ALLOWED:
BACKPACKS 
COOLERS of any size
ANY BAG that is larger than 12″x 12″ x 6″ 
*Subject to change
What items can I bring?
PERMITTED AND PROHIBITED ITEMS
 
ALLOWED AT ENTRY:
Blankets/Beach Towel
Empty reusable water bottles (glass not permitted)
Prescription and OTC medications in original bottles
Sunscreen (non-aerosol)

NOT ALLOWED AT ENTRY:
No babies please. This event is ages 8 and up.
Aerosol cans or sprays (including sunscreen)
Alcohol
Smoking of any kind, including vaping
Items that can disturb the peace, endanger safety, and/or inflict damage
Guns, knives or weapons of any kind
Audio or video recording equipment
Bicycles, rollerblades, or skateboards
Chairs of any kind
Coolers of any size
Drones
Fireworks, sparklers, or incendiary devices
Flags and/or flagpoles
Focused-light devices, including laser pointers
Glass containers
Glowsticks
Hula hoops & juggling toys
Illegal substances or drug paraphernalia
Outside food or beverages, including alcohol
Non-Service Animals (Emotional Support Animals are not permitted) – Do not leave pets inside your vehicle!
Professional photography equipment (no detachable lenses, monopods, tripods, large zoom lenses, and/or commercial-use camera assemblies) unless approved
Soccer balls, footballs, Frisbees, or other projectiles
Tents or canopies of any kind
Strollers, Umbrellas or Wagons
Was this FAQ helpful? If you didn't find an answer to your question, please contact us.